[ivcs]
Type: article
Parent page: History and Information About Paris, Canada
[/ivcs]
Paris, Canada may seem to many like a laid-back town that was previously a countryside village. However, its economic history is filled with inspiring stories of entrepreneurial minds who wanted to change their fortunes. If you are looking to learn more about the economic history of this town, then this post will shed more light on that.
It All Starts With Mining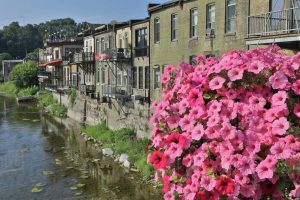 Before any other economic activity was explored in this town, mining was what attracted the first settlers here. Gypsum, the key ingredient in the manufacture of plaster of Paris, was discovered here in the year 1793. By 1794, the colonial government had already built a road that connected to the mine, thus paving the way for more exploration of the area.
The Coming of Hiram Capron
Hiram Capron, an immigrant from the United States, is the man credited with founding Paris, Canada. For $10,000, he bought land at the Forks of the Grand in 1829. His first instinct was to divide this land into plots that could be settled on by the miners and other immigrants who were looking for opportunities in the town. Several mills and an iron foundry followed under the tutelage of Capron, and this set Paris, Canada, on its way to becoming a big mining town.
Farming was also another prominent economic activity that settlers to this area engaged in. There was also an open channel that saw more merchants bring their wares to this town for trade.
By the time it was elevated to municipality status in 1856, exportation to the US, Europe and Canada was common. This saw an influx of Irish, American, Scottish and English traders. They contributed significantly to growing the economy of the town. In addition to the mining of gypsum, there were also textile industries set up here as well.