[ivcs]
Type: article
Parent page: Knowing Paris, Canada
[/ivcs]
Paris, Ontario, is dotted with numerous restaurants offering various services. People have varying tastes and preferences; therefore, the restaurants in Paris are designed to fit multiple people's specifications. Even better, most of the bistros are strategically placed so that customers can take in the view of the Grand River as they enjoy their meals. The meals offered are both local delights and international cuisines. Here are some of the most popular restaurants in Paris, Ontario.
2 Rivers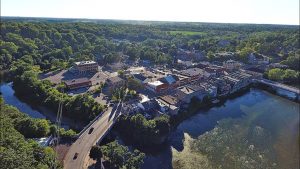 The five-star restaurant is located on 25 Grand River Street N and to enjoy their tasty dishes, one has to book a table in advance. The bistro does not offer delivery services; therefore, the only option customers have, is to dine in the restaurant. The restaurant is situated on the Grand River, and the restaurant offers free WiFi. You can use the internet connection to play your favourite game at PlayAmo casino that has many and thrilling casino games. From the street, the view of the Grand River is spectacular. The many customers who have eaten in the restaurant before have left good reviews meaning that new clients should also have a good time.
Midtown Kitchen
Midtown Restaurant is the ideal bistro to visit if you need late-night food. The restaurant located on 59 Grand River Street N is open till late and the dishes served are both nutritious and of high quality. The outdoor seating offered to clients is both cozy and magnificent. The availability of food late in the night makes Midtown Kitchen convenient for tourists who may be exploring the town till late.
Stillwaters
Stillwaters is among the top-ranked restaurants in Paris because it offers a wide variety of Canadian cuisines. Some of the dishes offered are authentic Canadian dishes, while others have been inspired by other dishes globally; therefore, the recipe deviates from the traditional one. Since all the meals are tailor-made, clients are likely to have an excellent time enjoying the various tastes.